Absolutely Straight
Posted by
Chel
| On
Thursday, 9 November 2006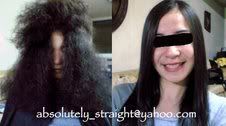 Dreaming of super sleek, "pang shampoo commercial" hair at half the cost and done in the comfort of your own home? Then you must try Ben - the artist responsible for my catwalk-straight hair. :)This interview was conducted while the master technician was retouching my previously rebonded hair. :) I can vouch for this guy - very professional, very meticulous, galing talaga!
Hi, please introduce yourself to the Kikay Exchange readers. Hello, my name is Ben. I am a freelance hairdresser. I specialize in salon chemical processes, specifically [tag]rebonding.[/tag]
Where did you train? I attended numerous demonstrations/ product launch/ seminars of different companies. I've been to the rebonding-specific demos of wellastrate (wella), xtenso (david's), ahglow, sofia, braidwood, hairlight/prosil, HBC, rbh, monea.
How long have you been doing this and how many clients have you rebonded?


I have 4+ years of experience in this field. The first 2 years was spent on learning and experimenting. Then the later part came when I thought i was ready for the next big thing -- that is facing real clients. I dont remember exact figures, but i estimate it's around 200 - 300.

What product do you use?


I have practically tried all of the aforementioned brands and they are all almost the same in terms of efficiency. With the right technique, skill, and external products to use, then I can arrive with much the same result as with every brand.

Right now I am using HBC premium line. First, because i like its viscosity, although not as rich-creamy as xtenso. It has a fairly acceptable scent too. Second. I use this because of cost-efficiency reason. If I will use luxury brands then definitely I have to charge as much as 10k, but since I cater to the middle-upper class, then this brand suits my needs very well.

I had xtenso done two years ago in a fairly prestigious salon before you rebonded my hair. I didn't notice any difference - in fact, I think your work was better. Is there a difference between, say, rebond and xtenso?

I'l give you the analogy: xtenso is to "colgate" as rebonding is to toothpaste.

Have you ever turned down clients? What are your contra-indications to rebonding?


A lot. I don't do previously straightened hair using Hydroxide (lye) chemicals, badly damaged hair due to successive coloring, colored hair with metallic / henna dye, bleached hair, fine/thin ageing hair, pregnancy up to 6 months after delivery, people taking certain medications (thyroid meds, steroids), those who can't sit on the chair for 7 straight hours, those who can't endure pain (during ironing), and last, those who can't simply follow the rules.

What was your most challenging client thus far? (My thought bubble: please don't say its me. :D)


I have lots of challenging clients. The extreme case is always a retouch of excessively thick, excessively kinky african-type of hair.

And lastly, your message to Kikay Exchange readers?


There's a LOT to know about this subject matter. People must be well-informed about this so they'll avoid salon issues. Searching for a very competent 'master technician' is another matter. So I'l invite your readers to visit my thread at GirlTalk (must sign up first).
http://www.qtben.multiply.com absolutely_straight@gmail.com * pictures are of Ben's clients - no, I am not in any of them ;)